🥧🎉 LIVE online class: Let's make choux pastry & Discuss Science. Oct-22nd, sign up here 🎉🥧
Welcome!
Are you curious about food? Always tinkering with (new) recipes? Not scared of trying out a new way to make a dish? And if it didn't work out, do you want to understand why it went wrong?
Then you're at the right place!
Here at FoodCrumbles.com, we love to help you understand your food. Did your dish turn out too soft, light, dark, thick, or maybe too firm? We'll try to help you figure out what happened. We help you dissect your recipe. So you can figure out which ingredient(s) or processes are giving you trouble and how you can fix them.
Making food science accessible
How we help you? By using science.
A lot of fascinating knowledge on food is 'hidden' in scientific articles, or advanced study books. We read them for you and translate them into tips and knowledge you can use for your dishes!
Of course, we do more than read books and articles. More often than not, we experiment ourselves to share our findings.
Nevertheless, you won't find the 'best' way to make something here. We believe that almost always there isn't one best way to make something. It always depends. On personal preferences, on the tools, and ingredients you have available, and more. That's why we prefer to help you understand something. So you can make the version that's best for you.
We want to help you
Of course, we really enjoy sharing what we learn with you. It's why we exist.
On the blog we share articles about a wide range of foods. Whether you're interested in candy, bread, vegetables, dairy, or grains. You'll find articles explaining the science behind them.
Whether you're a scientist, a high school student, or just someone who's interested in the science of food, you should be able to find a treasure trove of information here.
Can't find what you're looking for? Don't hesitate to reach out. We truly love hearing from you.
With over 100k visitors per month, we're one of the go-to places on the internet to learn more about the science behind your food!
Need something more?
Sometimes, just one article isn't enough to answer your questions.
You may want to dig deeper, but also understand the bigger picture. You don't want an answer to just one question, but to many. You want to be taken on a journey.
If that's the case, a food science course might the be thing you need! In our courses we take a better look at a sub-field of food science. We start with the basics, and build your understanding as we go.
Don't have time for a course? Or don't have time to Google your answers? Inquire about our consultancy offerings here!
About Myself
Sustainability
A better world starts with ourselves. So, I try to run this business sustainably, though there is always, and will always be, room for improvement.
If I can I buy used equipment and tools, or pay a little extra to get one that won't break within a year. I don't throw away food (unless it's unsafe to eat), and use solar panels to power to power my office/home.
FoodCrumbles is hosted by Antagonist, a Dutch web provider who is working on sustainability as well: more information as well as Cloudflare for our CDN. They both use servers that solely use renewable energy, which is a good start: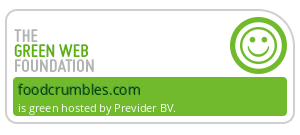 Sustainability is something that's very important to me, but always a work in progress. I hope to get better as we go!
Legal/Copyright notes
All photos on this blog are my own, unless stated otherwise. If I do use photos or recipes from other sources, this is mentioned clearly, including a link to the original source. If you think I may have (accidentally) misused your recipes, images or other materials, please reach out.
Use my content as a resource as you would whenever doing research. Rephrase the content in your own words and include a link back to the original source. Please do not copy/paste, and that includes using translators.
How to cite the website
A lot of people use information from our website for school, university, or research projects, which is great! Here are two suggestions on how to reference the website:
"Blog post title", Retrieved "day-month-year", from "URL"
Verbon, A., "Blog post title", Retrieved "day-month-year", from "URL"