Welcome!
Nice to 'meet' you. Here on FoodCrumbles.com, we love Food + Science. As such, you might find us:
digging through the

scientific literature

to help explain curious food phenomena;

experimenting

with ingredients;
reading books, watching YouTube videos or interviewing experts to learn

how our food is made

;
figuring out why

recipes

(don't) work (it's pretty unlikely we make the same recipe more than twice…);
analyzing and interpreting our data;
learning from others.
Of course, we really enjoy sharing all that we learn with others, such as yourselves :-). We do that through three main avenues:
Our blog – here you'll find all of our 'research'. Whether you're a scientist, a high school student, or just someone who's interested in the science of food, you should be able to find a treasure trove of information here :-)! With over 100.000 monthly visitors, this is our central hub.
Our courses – want to really dig into the science of a specific food or ramp up your general food science knowledge? This is the place to be. The courses dig deeper than our blog does and provide you with ways to experiment and practice as well.
Our consultancy – have a problem or a question? You can reach out to us directly (here). If it's a simple matter, we'll respond with an e-mail. If it requires more time, we'll let you know and we can discuss how best to help.
About the Science Chef
The vast majority of content is written by myself, the 'science chef'. There are a few other contributors and I have some help behind the scenes (e.g. for design). That together makes up the 'we' of FoodCrumbles.
I am Julie Mal (pen name), born and raised in the Netherlands, a small country in North-Western Europe. In high school, I'd always been interested in the sciences, math, chemistry & physics. I was interested in a lot of things though, so didn't want to pin myself down for a specialized field just yet. As such, I decided to study chemical engineering in university. It was a great program to start with, but towards the end of my bachelor's degree, I realized I wasn't that interested in the chemical industry. The food world appealed a lot more! Luckily, it was easy to make the switch to food technology. There's only one university offering a food science degree (Wageningen University) so that made the choice pretty easy :-).
It proved to be a great choice. I really enjoyed applying all the science I had learned so far to food.
During my time at university, I studied abroad twice: in Switzerland and in Canada. Living in a different country, experiencing other cultures, and meeting new people were all great experiences.
Once graduated, I started working in the food industry. I started working for a Dutch food 'consultancy' company. There I worked with a range of small to medium food manufacturers, supporting their product development and quality management processes. Working with and for different companies at the same time was great, it made the work very dynamic.
Wanting to learn and grow more though, I decided to switch jobs after a few years and work for a large multinational food manufacturer. The international work environment was one of the main reasons for switching. It even allowed me to move abroad (again) for a few years, this time to the US. Within this company, I've always worked in research and development, both in individual contributor roles, as well as leading a team. Leading a technically strong team was a great passion of mine, combining people management with interesting technical challenges is the best of both worlds.
Want to know more?
Want to ask a question, work together, or just reach out? We'd love to hear from you!
Interested in working with us on FoodCrumbles.com? You can find more details here.
Start here to learn more about food science.
Sustainability
As a small, family owned business, sustainability is very important to us. We'd like to leave the world in a better place than we found it. We're still actively exploring what sustainability means for FoodCrumbles.com though and if you have suggestions or ideas, let us know!
A few notes that we can already share at this point:
We host our website with Antagonist, a Dutch web provider (some more information about their sustainability goals, slightly outdated and in Dutch; some more information about Dutch sustainable hosting) as well as Cloudflare for our CDN. They both use servers that solely use renewable energy, which is a good start: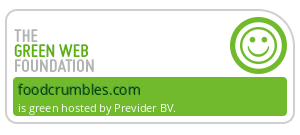 Most of our work takes place from home, where we have solar panels on our roof, so that's another help (when our oven is on, which is often is, it's powered by the sun, which is a good thing :-)).
We don't throw away food from our experiments, unless it truly is unedible and would make us sick. We try to either give it away or eat it ourselves.
We write about all types of food, including meat which has a far greater impact on the world than e.g. vegetables. We do try to balance this (yes, this is a work in progress) and would love to feature more sustainable food options as we go.
We've got tons of ideas for posts on food sustainability, and hope to publish more and more of these. If you have ideas/suggestions, or products/people/concepts that we should cover, let us know!
All in all, sustainability is something that's very important to us, but admittedly a work in progress. We hope to get better as we go and do our bit here and are open to ideas and suggestions :-).
A few important notes
All photos on this blog are my own, unless stated otherwise. If I do use photos or recipes from other sources, I will clearly mention it and include a link. If you think I may have (accidentally) misused your images, please let me know.
The core of this website is the explanation of science behind your food. Having recipes to illustrate those concepts helps us bring this to life. We take inspiration from a lot of different sources and always try to mention these either in the recipe itself if it's been our main source of inspiration, or at the bottom of a post. If you believe I haven't properly referred a resource, please me know using the contact form below.
Use my content as a resource as you would do whenever doing research. Rephrase the content in your own words and if publishing line, include a link back to the website. Please do not copy and paste :-).
How to cite the website
A lot of people use information from our website for school, university or research projects, which is great! Please feel free to use the website as long as you reference it well. Here are two ways in which you can reference our website:
"Blog post title", Retrieved "day-month-year", from "URL"
Mal, J., "Blog post title", Retrieved "day-month-year", from "URL"